The eastern shore, from Lihue (where the airport is located) to Wailua and Kapa'a — the "Coconut Coast" — has location as its main advantage. It's about midway between Poipu and Hanalei and about a half-hour drive from each, so you can explore the island in either direction, depending on the weather and your inclinations.

You'll find hotels, condo developments and B&B's, and many can accurately be described as beachfront. You should ask careful questions, however, because eastern shore beaches often have tricky currents, and swimmers must be very cautious.

Some excellent beachfront condos are in the Wailua area (Lae Nani, Wailua Bay View, Lanikai, Kapa'a Sands) and the Kauai Holiday Inn near Lydgate Park. The best beachfront location is the magnificent sandy swimming beach at Kalapaki Bay, home to the Kauai Marriott.

Our favorite swimming beach is Kalapaki Beach (pictured) wonderful for swimming, skim boarding, and when the surf is right, boogie boarding. The sand is perfect for playing ball or frisbee, running, or simply sunning.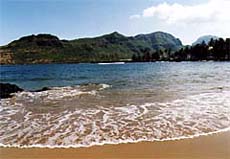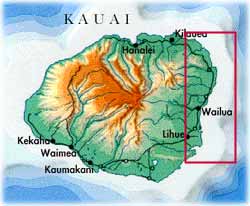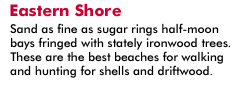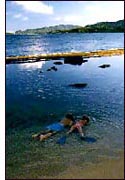 Lydgate Park in Wailua is perfect for families — an enormouse lava rock-rimmed pool offers wonderful swimming and snorkeling and a smaller rock-rimmed pool (pictured) is just right for toddlers.

Beyond the pools, the beach is great for long walks. Lydgate also offers the best playground on Kauai, the Kamalani playground for the climbing and swinging set, and it's a great spot to watch glorious golden sunrises.