With a truly unobstructed beachfront location, our two bedroom, two bath fully equipped apartment feels like a private home with all the conveniences of a first class resort! All you see is the grass, flowers, trees, sand and sea, sparkling in the sunshine and only 25 steps to a sandy swimming beach!

Great Location. Lae Nani is a short walk from shops, restaurants, and shows. You can walk to almost everything you need! And from this central location, you can drive with ease all over the island — to the other major resort areas, Hanalei to the north (35 minutes) or Poipu to the south (25 minutes) — a perfect base for exploring!

Luxury. Extra spacious, with 2 large bedrooms with new, excellent beds (a king and 2 twins) and 2 full baths. Our gorgeous kitchen is completely equipped, including dishwasher, microwave, blender, family sized refrigerator with ice-maker.

Living and dining rooms have sweeping views of the ocean, and from the dining table on the lanai you can watch waves break on the sand while you eat! Two color TVs, VCR, video library, and a washer/dryer give you every convenience right there! A deluxe corner unit on the ground floor, our unit is tucked away on the quiet side of the resort, away from the pool and tennis court.

Beautiful Lydgate Park, only 5 minutes from Lae Nani, offers picnic grounds and an enormous lava-rimmed ocean pool for safe family swimming and snorkeling. You can walk for miles along a deserted, beautiful golden sand beach!

Rates and Availability. Email us for our fantastic direct-from-owner rates! (one week minimum stay)
For Pictures visit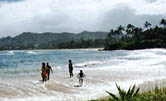 Privacy & Beauty. Nestled in a secluded, private cove— the site of a millionaire's estate-with a superb white sandy beach and gently rolling waves — Lae Nani was featured by United Airlines on the cover of its all-Hawaii condo-air packages for two years!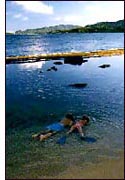 Great Swimming. Kids of all ages will love the lava-rimmed ocean pool on one end of the beach. Rolling waves break on the rest of the beach for those who love playing in the surf!

In nearby Lydgate Park, a giant lava-rimmed ocean pool breaks the surf into rolling swells wonderful for rafting and snorkeling. Adjacent to Lae Nani's private cove is a long beach where you can walk-or run-for miles. Lae Nani's magnificent swimming pool-swim teachers call it one of the best on the island-is perched right on the ocean, with a panoramic view of Wailua Bay!

Exploring. The Wailua Region, where Lae Nani is located, offers lots to do and see. Beaches are wonderful for exploring and swimming. Luxuriant valleys and mountain slopes are threaded with hiking trails leading to secluded waterfalls and fern forests.

A great location for exploring Kauai, Wailua lies approximately midway between the two other major resort areas-hot, dry Poipu to the south and lush, tropical Hanalei to the north. You can drive north to Hanalei for surfing in the morning and south to Poipu for dinner- in just about a half hour! You'll have your choice of superb golf courses. You couldn't have a better base for exploring this beautiful island than Lae Nani!