UPDATES
Our 19h edition is now off the press! To date our Kauai Underground Guide Campaign for Kids has raised more than $80,000 for island non-profits helping island children. Thanks for your support in buying our guidebook (each copy raises money) and spreading the word! You can help a lot! Submit our link (www.explorekauai.com) wherever you can!
NORTH SHORE NEWS The StRegis is open with two new restaurants. The view is still the most amazing on Kauai, and possibly anywhere, so at the very least visit the lounge and sip some wine and enjoy the sunset. If you can swing it, walk downstairs to have dinner (or lunch or breakfast) at Makana Terrace, one of our favorite dining spots.
SOUTH SHORE NEWS Koloa/Poipu
Brennecke's Beach Broiler has discontinued it salad bar! we are sad to see it go, and hope it will be reinstated. so make your opinion heard! The fresh fish is still excellent.
The new Kukui'ula Village next to the new roundabout at the junction of Poipu Rd and Lawai Rd is open. Here are some of the new destinations:
Those who remember A Pacific Cafe will be please that Jean Marie Josselin is back cooking on Kauai, in his Tapas Bar & Grill. We find it more inventive and creative than Merriman's Kauai, another offspring of popular Maui chef/restauranteur Peter Merriman. Downstairs from the main dining room, Merriman's Café offers casual for lunch and dinner.
Living Foods Market – A gourmet market…ala Whole Foods meets Dean and Deluca Kauai style, has "take away"food. and many health food alternatives (gluten free options too). Prices are high but quality is excellent and you will be able to buy hard-to-find things.
Bubba Burgers – Kauai's favorite spot for hamburgers and fries with a side of humor, with other very successful branches in Kapaa and Hanalei. Dude Dogs – New venue for steamed hot dogs.
Poipu/Kiahuna Shoping Village: At Papalani Gelato (heavenly gelato in Hawaiian), you can sample as many as 18 delicious gelato and 12 sorbetto flavors. Everything is made right in the store. Try a free taste of acai/apple banana sorbetto, mango, papaya, or kulolo made with fresh local fruits. In addition to organic frozen treats, the owners also create fabulous hand made chocolates as well as gelato cakes and pies. In the Poipu Shopping Village next to Puka Dog. 808- 742-CONE (2663). papalanigelato.com
EAST SIDE NEWS – Lots of Restaurant News—Closings, openings, changes!
The Eastside in downtown Kapa`a offers a terrific small menu of fresh local fish, Asian fusion flavors, and inventive sushi. It's worth a visit and many folks come more than once.
Phy Vy This tiny eatery opposite Safeway features hot and cold noodle dishes, as well as springs rolls and stir fries. We chose one hot noodle dish (pho) and one cold one (vermicelli) and were delighted with both. Pho is made with beef stock and garnished with chicken -- a pure clean flavored dish, the soup stock delicate and at the same time distinctive. Service is quick and pleasant, with softspoken owner Jaclynn Pham ready to answer questions and help with choices. Prices are the same level of reasonable both at lunch and dinner, when you can bring your own wine or beer.
Sushi Bushido has just moved from its Spartan facility in Nawiliwili to spacious quarters in downtown Kapa'a (it replaces the now closed Blossoming Lotus in the Dragon Building). This is a welcome addition to this rapidly developing food area.
Local people love Verde, a tiny 'New' Mexican restaurant in a small storefront next to Big Save in Kapa'a. (Not Tex-Mex or Cali-Mex but Albequerque-Mex). The owners are committed to quality food in generous portions at reasonable prices. Fish tacos with fresh ahi are a winner. So is the margarita bar and the fresh hot taco chips.
TNT Burgers Just next to Kojima's market a small take out tent with the unlikely name of 'TNT Burgers' has lines of local folks at lunch for the huge grilled burgers and home made fries. There is not much on the menu, but quality is superb.
Tutu's Soup Hale is more than just soup -- also sandwiches, salads and special drinks made fresh daily by gifted and inventive chefs. It's unpretentious and fun, and Sage and Bert are welcoming and take food quality seriously. Coffees and teas make breakfast a great way to start your day! Everything is gently seasoned and delicious. Next to Kinipopo Shopping Village in Wailua. 7:30 a.m. to 9 p.m., Monday - Saturday, and 10 a.m. to 6 p.m., Sunday. tutussouphale.com
Bobby V's Pizza and Restaurant in Wailua (across Kuhio Hwy from McDonald's) bakes great pizza, with thin, light crust. Pizza Margarita is a particularly good choice (ask for no spaghetti sauce and fresh tomatoes instead, if possible). Eggplant parmagiana was smallish and heavy. Next door is Sweet Marie's for great muffins and healthful sweets.
Eggberts is now located in same space as Hula Girl, and so now you can have all three squares -- BLD.
Gingbua On the back corner of Harbor Mall in Lihue, opposite JJs Broiler, a tiny Thai restaurant sits on a breezy corner veranda offers reasonable food at reasonable prices. Best was Tom Ka Gai a traditional coconut soup with chicken fragrant with spices ($9. Fresh Vegetable Summer Roll was stuffed with crunchy, colorful vegetables including fresh mint, served with and a delicious plum dipping sauce. Pineapple fried rice we found to be a bit dry, and chicken with eggplant was too bland. Tamarind duck with black mushrooms could have been crispier, though the sauce was delicious. Service was friendly if perhaps inefficient, but the dining veranda was so pleasant in the evening breezes that no one really minded.
ACTIVITIES Kauai Photo Tours is a great way to explore Kauai! Instead of the normal tourist locations, this 5 hour photographing tour takes you in a small group by van to beautiful hidden spots. If you need help with your camera, you will learn a lot from pros Vince and Scott Tylor. Photographers make the best use of their island time by getting to the best places easily and quickly. It's a great value, lots of fun, and one bonus is to see owner Vince Tylor's beautiful work in the office gallery. Private tours are also an option. A great, reasonably priced option (just over $100) for exploring this gorgeous island! You can even rent a camera and buy (some) equipment. (808) 823-1263. 4939 Kuhio Highway Kapaa, HI hawaiianphotos.net
Kauai Paint for the Day Tours are offered by Michele Tylor, and give you the chance to paint in a variety or media at spectacular locations. All supplies are included, as well as drinks and snacks ($149 or $89/kids). They can ship your paintings back home!
South Pacific—The Original Musical plays on Wednesdays at 5:30pm in a dinner theater. The original 1950s' film was made on Kauai, and put Kauai forever on the map as a major Hollywood film location. This live stage production is fun for the whole family. Purchase tickets at 808 346 6500 or online at southpacifickauai.com.
Da Kine Wine Check out Kauai's newest wine shop, Da Kine Wine opened recently by Kauai-raised Daniel Braun, formerly Resort Sommelier for the Four Seasons Maui at Wailea. His boutique collection of wines are really special, the kind you won't find at Safeway or anywhere else on Kauai. dakinewine.com. In the Princevilke Shopping Center. Sign up for his weekly tastings.
Nani Moon is a new brewery for Kauai produced wine, or mead actually since it is made from fermented honey rather than grapes. Each bottling is unique, fragrant with the flower combinations from which the bees have made their honey, as well as Kauai fruits. We tasted 'Pineapple Guava Sunset' and came to appreciate its unique nose and taste, very dry and floral. Owner winemaker Stephanie Krieger also plans a 'Limahuli Mead' with the aroma of mountain apple, and a 'Winter Sun Mead' with sun ripened starfruit and lilikoi. Stop in at the brewery-tasting room and give mead a try. nanimoonmead,com 808-823-0486.
SHOPPING Kapa'a In downtown Kapaa stop in for shave ice at Hee Fat Store (below Olympic Café) and do some shopping (great island gifts) and next door for wonderful clothes and jewelry at Taj Beach Company. Coconut Coast showcases interesting island gifts with a friendly greeting from owners George and Holly. 4-1477 Kuhio Hwy # A. Kapa'a, HI 96746-1776. (808) 823-0779?. Across from the Kapa'a library.
In Koloa visit Pohaku T'S (where else would you find locally made Barbie tents!). Owners Carol and John have collected a varied inventory of locally designed and created clothing, gifts, and crafts to take back home. www.pohaku.com. 3430 Poipu Rd. Koloa, HI 96756-9522. (808) 742-7500
BAKERY NEWS
Stop in at Sweet Marie's, for gluten-free baking, including all kinds of delicious and even decadent rice-flower based treats, including chocolate coconut macaroons, double chocolate fudge brownies, sour cream coffee cake, and unique wedding cakes. Hours are limited (7am – 2pm) in this tiny bakery, and your taste buds will go on alert as soon as you park; just follow your nose. Baker/owner Marie once made the special desserts for A Pacific Café.
Icing on the Cake, a the tiny bakery in Kinipopo Shopping Village, is a find for delicious bran muffin (sweetened with raisin puree) or scones, or a sinfully delicious cookie. Interesting teas reflect baker/owner Andrea Quinn's commitment to sustainable growers. If you are planning a birthday or anniversary, be sure to Wailua, In Kinipopo Center. 808-823-1210. iciingonthecakekauai.com
Country Moon Rising in downtown Kapa`a has wonderful bread and tropical fruit turnovers and scones. Go early!
WEST SIDE NEWS
WAIMEA Yumi's bakery fills the air with perfume of cinnamon, so start you day with a coconut or apple turnover still hot from the oven! Also in Waimea, for one of the best lillikoi pies on Kauai, visit Aunty Lilikoi . In addition to her signature mustards, jellies, other treats, pick up a pie (only $12). It will come to you frozen, so stay fresh in the car all the way back home. Aunty Lilikoi's pies are rich and custardy, a real taste treat!
More NORTH SHORE NEWS HANALEI : For those early mornings, be sure to try breakfast at Java Kai. Tin Man Pizza continues to be a local favorite. And for inexpensive and fast, try Pat's Taco, or Hanalei Taro and Juice for a kalua pork and rice bowl (only $4) and great smoothies (next to the shave ice trailer near Dolphin Restaurant).
Check out Mirah's Kauai Adventures including Ziplining and Scuba

In Poipu. massive construction will make the scene unlike anything you remember! A new circle for traffic control, several new condominium developments and local housing projects are transforming the landscape.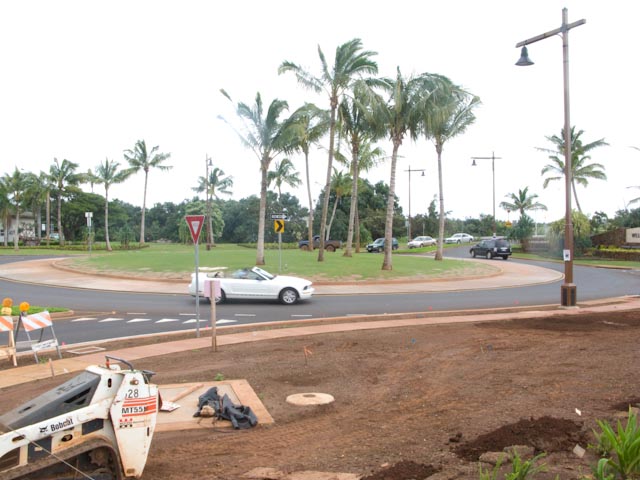 The island as a whole is quiet--given the economy, occupancy is down at condos and hotels and beaches have returned to the peace and quiet of years ago (Poipu excepted). SO now is really a good time to travel to Kauai.
But avoid Queen's Bath on the north shore, no matter what you read in any of the guidebooks. Ultimate Guide calls it a "real gem" and has been sending visitors there for years, but people die there, drown in unexpected high surf that can wash suddenly over the rock pool in any season but particularly in winter. There have been so many drownings there that the County has asked guidebook writers, naming the Ultimate Guide in particular, to stop recommending this spot. The Kauai Underground Guide has always taken a strong position on safety in making recommendations, and has never advised visitors to go to Queen's Bath, or any other place we consider unsafe. Our book has been commended by the head of Water Safety on Kauai and the Fire Department chief . The Fire Dept has the job of rescue or recovery.
Taqueria Nortenos has been sold! The popular Mexican take-out restaurant in Poipu is now called called Poipu Grill. It is a popular take out restaurant for burgers, sandwiches and fries. That area is undergoing heavy construction but the restaurant still is popular due to its convenienient location, quick service and good food. Great place for grabbing a quick lunch and taking it to nearby Poipu Beach State Park and sitting in the picnic pavillion, which is exactly what we did. (Thanks Marianne!)
Blossoming Lotus in Kapa`a, the popular vegetarian restaurant, has closed, a victim of the economy. But across the street is a great new find! Remember Beezers in downtown Kapa`a? Gone! and in its space a terrific new eatery with delicious food and friendly staff. The Eastside. Hard as it is to open in a down economy, these folks are really trying hard to build a following. Fresh seafood deftly seasoned is the specialty. Fresh mahi mahi served in a light miso broth over oriental noodles was a stand out. Even fish and chips, lightly battered and served crisp and hot, is a stand out, made with fresh mahi mahi and garnished with a generous helping of home made taro chips. Particularly wonderful is the special sushi apetizer, with shrimp tempurs and avocado served maki style, rolled with fresh ahi--sensational! fresh and light and elegantly presented. The dining room is small, and seems intimate rather than squashed; tables are well separated and comfortable. Live music makes the evening pleasant, and the staff could not be more efficient. It's a great spot for outstanding fresh fish. Bring your wine in from ABC across the street, as the liquor license is still in the works. No corkage fee. Fish entrees $24. Appetizers $10-$14. Lunch and dinner daily.
Monico's has expanded its tiny operation in Wailua--best place for generous portions of tasty mexican food at reasonable prices. Long lines, however--mainly local people who know a good deal when they find it! The new dining room allows for indoor eating. Take-out is still a huge part of the business.
Koloa Fish Market is still the best spot for fresh island fish and great poke on the south shore. Kalua pig plate lunch is a standout!
Will Squyres Helicopters has merged with a company from Maui. Will himself will be leaving the island for the mainland for a long awaited break so will no longer fly scenic tours. In fact, the company now has policies (inflight videography for example) that Will opposed on safety grounds.
Keali'i Reichel has a wonderful new a CD restrospective album, Kamahiwa. Look for it at mele.com
National Transportation Safety Board has finally reached its decision regarding the helicopter crash of 2003 involving a bell jet ranger aircraft operated by Jack Harter Helicopters. NTSB has determined the cause of the crash to be pilot error, specifically that the pilot, a respected Navy veteran, falied to maintain proper altitude in the Waileale crater. 5 people including the pilot died in the incident.
Norman Ka`awa Solomon (see below) has come out with a CD of favorite Kauai songs, Na mele o' Kauai. Profits benefit children on Kauai. find it at songsoftheislands.com or at borders on Kauai.
New Surfing Hall of Fame on Kalapaki Bay features surf boards, film clips, beach party memorabilia, and the international surfing hall of fame. 808 632-2270
Hawaiian Blizzard shave ice stand next to Big Save in Kapaa makes wonderful flavors, and snow cap. www.hawaiianblizzard.com Say hi to Aaron!
Farmers Markets: Update the schedule to include the Hanalei market on Saturday 9:30 am; Kilauea starts at11:00 on Saturday.
For sweets, be sur to try a taro-based sweet called kulolo. It's available on the island at Pono Market--but only on thurs mornings.
Best fresh fish on the north shore (perhaps on the entire island) can be found at Kilauea Fish Market. The owner works hard to present her guests with generous stuffed wraps and sandwiches of what her friends have just caught!
South Shore
Piatti has re-named itself Plantation Gardens, back to its original name. Piatti chain owner Bob Harmon has given the business over to his son, so you will find some things changed. Bread comes with simple olive oil and vinegar instead of Piatti's strongly flavored olive spread, for example. The kitchen has kept its focus on fresh, local ingredients, and light, rather than heavy sauces. Not much for the vegan besides fresh salad, though vegetarians have some choices on the appetizer and entree menu.
Ziplining
Soar above the trees and rocks! Backcountry Kauai Adventures has developed a new adventure linking 7 ziplines across Kauai's verdant sugarcane land. Even the not-very adventurous soon get the hang of it and feel empowered, zipping across the jungle from platorm to platform. A second company Princeville Adventures also offers the zipline tours. See Mirah's Kauai Adventures
The same company has developed the Tubing adventure. Explore Kauai's upcountry lands via innertube, floating through the network of irrigation canals that once brought water to the sugar cane lands from the mountains to the sea. The adventure includes several tunnels (headlamps provided). Great fun for the whole family!
Just for Kids! The Na' Aina Kai Gardens has opened a section just for children. Enter the rainbow gate and explore kid-friendly features like a treehouse, a gecko-shaped maze complete with Jack and the Beanstalk. Visit the children's garden as part of the famil walking tour of the gardens, which includes the formal gardens, the poinciana maze, the tropical lagoon, japanese tea house, Shower Tree Park, and orchid house ($15/children and $25/adults). For those older than 13, longer tours range from 2-3 hours ($35) and 5 hrs ($70), to see all kinds botanical discoveries-a desert garden of cactus, an enormous shrubbery maze, even a garden of carnivorous plants which are misted by a clever overhead system, as well as groves of 40,000 hardwood trees of different varieties, an exhibit of beautiful statues, and a gazebo with a great ocean perch overlooking the spectacular north shore coastline just south of Rock quarry Beach (available for weddings). On Wailapa Road, Kilauea. The 3-hour tour by tram and on foot ($35/pp), as well as a 5 hour tour ($70/pp) which includes a box lunch). For more details, visit www.naainakai.com (808) 828-0525 Sierra Club organized Kauai hikes are published online at www.hi.sierraclub.org/Kauai/kauai-hikes.html