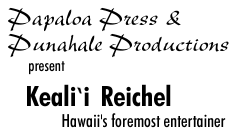 To celebrate this 17th edition, we've arranged for a special Hawaiian Music Sampler featuring songs by Keali'i Reichel, whose first album Kawaipunahele took the music world by storm in 1994 and is now the bestselling album of Hawaiian music—of all time!

Help Kauai's Children
Buy Keali`i Reichel CDs here and a portion of the sale price benefits programs helping Kauai's children — for literacy, the arts, & children with special needs.

---
Listen to songs *

E O Mai (828 K)


Kawaipunahele (856 K)


Lei Hailia (636 K)


Ka 'Opihi O Kanapou (388 K)

---
* Requires QuickTime 4.



Tune your QuickTime plug-in.
1. Select Plug-in Settings
(on the control bar pop-up menu.)
2. Click on the Connection Speeds button.
3. Select the type of modem or connection you use.
4. Save settings.
5. Reload the page to play at your connection speed.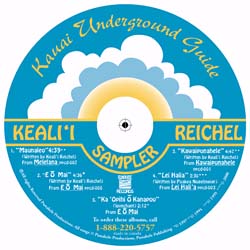 This Special CD Sampler features the unforgettable title songs from his 4 hit albums.



Keali`i's newest album has just been released! Ke`alaokamaile