Largely undeveloped, the west side is still 'local' Kauai. The weather is sunny, dry, even arid, which you'll appreciate when other parts of the island have rain. Just west of Poipu and Koloa, you'll come to the town of Hanapepe and Salt Pond Beach Park, a beautiful spot enjoyed primarily by local people. Choose from vacation homes, apartments, and B&B's in the main towns of Kekaha and Waimea.

Further west, you'll love the long, sandy beach at Kekaha (pictured below), great for swimming, body boarding, and beachwalking.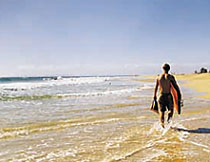 Tips for the Westside

* Salt Pond Beach Park offers great swimming, protected by a reef, as well as usually sunny weather. Kids love the tidal pools.



* Drive all the way to the end of the road to magnificent Polihale Beach, the westernmost part of the island, perfect for sunsets.



* On your trips west, stop off at Wrangler's Restaurant in Waimea for great hamburgers and salads, or Hanapepe's Green Garden for inexpensive island style food — and lilikoi chiffon pie.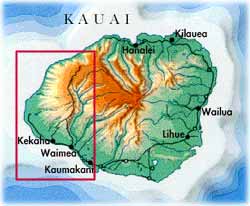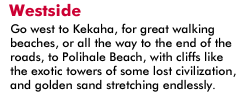 Beyond Kekaha is the awesome expanse of sand and cliffs at Polihale.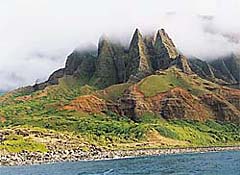 View of Napali coast from boat tours.