The south shore, at Poipu, on the leeward side of the island, has drier weather and generally calmer swimming conditions year round. It's also generally flatter, with vegetation more dry. For swimming, there is wonderful Poipu Beach, and for sheer beauty, spectacular Maha'ulepu.

You have many choices for lodgings, from two luxury resort hotels — The Hyatt Regency and The Sheraton Kauai — to a host of condos and B & B's, many within walking distance of Poipu Beach Park, with excellent protected swimming and snorkeling all year round. The Kiahuna, a luxury condominium resort, and the Sheratan have the best beachfront locations.

Our favorite hidden beach (though increasingly popular), Maha'ulepu Beach, pictured below, east of Poipu. Wild and beautiful!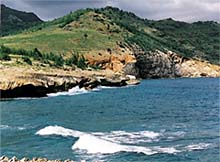 When you get hungry, enjoy lunch with a slice of ocean at Brennecke's Beach Broiler. A short drive away at Kalaheo, you'll find great lunches at Camp House Grill and Brick Oven Pizza.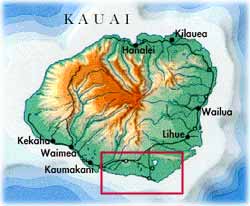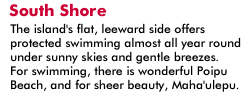 Poipu Beach Park (pictured) is perfect for families, the rock rimmed pool a safe place for kids and the snorkeling adjacent wonderful for their parents!

Enjoy the sunset colors at Poipu Beach Park, or while sipping Mai Tai at Brennecke's Beach Broiler across the street. Further west, at The Beach House, you have a better chance of seeing the sun actually set. Enjoy delicious dinners at both!