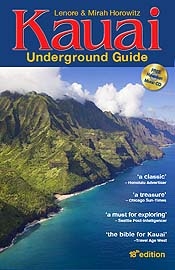 Kauai Underground Guide E-Book
The Kauai Underground, 19th Edition is available as a FREE download!
Papaloa Press is pleased to offer the 19th edition of the Kauai Underground Guide, previously available only in print, as a FREE, downloadable e-book. We do ask that you consider making a donation, all proceeds to benefit children's charities of Kauai.
In the 19 years we have been writing the guide, the Kauai Underground Guide Campaign for Kids has raised close to $100,000.00 for needy children on Kauai. All proceeds from the guide have always gone to benefit these needy children and your donated dollars are a big help!
Enjoying the book? Do you think that the guide is worth a $7.50 (or more) donation? All donations received go directly to the children's charities of Kauai!
Please use the fields below if you'd like to send your own donation amount.
Child and Family Service of Kauai is this year's beneficiary.
This e-book is available as a PDF and requires Adobe Reader to open. Get Adobe Reader for free!