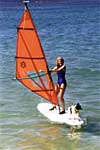 Sheltered Anini Beach is ideal for windsurfing. An offshore reef creates a peaceful lagoon in most winds, and on most days, you can see brightly colored sails and students from two windsurf companies.

For more information about activities, consult your Kauai Underground Guide, 16th edition.
At Windsurf Kauai, Celeste Harvel (828-6838) can teach the basics as well as a complete certification course. A gifted teacher, she has special size boards for kids, and a special dog, Kahili who actually may hop aboard and go for a ride!

Anini Beach Windsurfing (826-9463) also uses the latest in equipment and teaches surfers at all levels. Both companies offer small group lessons ($60/pp for a 3-hour session, morning or afternoon).

Drop-ins are welcome, though it's safer to reserve ahead. You can also rent equipment for $15/hr. Questions? Stop in at Hanalei Surf Company for advice and information. On the east side, Kalapaki Beach at the Marriott is the place! Call Kalapaki Beach Boys (246-9661).