Tubing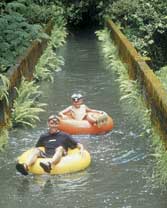 As the island's economy shifts from sugar cultivation to tourism, the vast sugar lands are finding new uses. Tubing along Kauai's sugar plantation irrigation system doesn't require washboard abs and can include the whole family. You meet in Hanama'ulu, drive upcountry to a launch dock where, encircled by your big innertube, you wade into the canal, then float with the gentle current towards the sea, along the route carved out of dirt and rock by Chinese immigrant workers in the 1870's. Make it a bumper car ride if you like, kicking off rocks or the sides of the canal, or even off each other, spin the tubes, or just relax and float through hidden Kauai. You'll pass through amazing tunnels, wearing your headlamp through the first four, trying the last one in the dark! The ride goes over a mini waterfall, supervised by a staff member. At the end, there's a picnic lunch. Call for prices. 888-270-0555 or 245-2506; www.kauaibackcountry.com.
Contact Mirah Horowitz for more info on the tours.
Zipline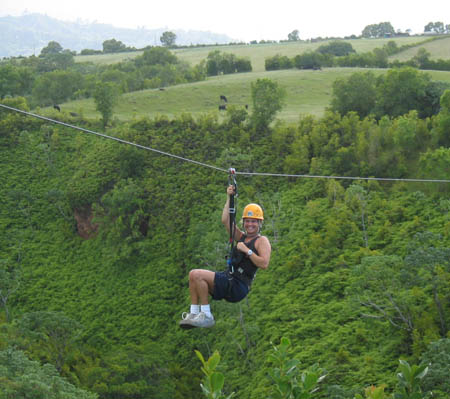 Adventurers can now have a bird's eye view of Kauai's beautiful terrain on a zipline tour ($110/per person). Kauai Backcountry offers a 3 1/2 hour tour through 7 ziplines, the longest aproximately 950 feet. At the start of the course, guides describe the tour and the safety measures, then each adventurer zips off down the cable while a second guide waits at the other end, either to reel in those who don't quite make it to the landing pad, or act like a brake for those who come barreling in. The tour starts with a "bunny slope," a slow, easy descent, then takes you on increasingly exciting rides, ending with a picnic (sandwiches, kauai cookies, chips).
Ziplining is empowering – even the most timid can learn to love it. There is nothing quite like leaping off a platform (sometimes you are told to get a running start) and sailing over trees and jungle, surveying beautiful streams and waterfalls below before touching down hundreds of feet later. The only downside: with up to 11 people on the tour, you can end up waiting around to be hooked in, which slows things down. Long pants are required (rental $5) as are closed toed shoes (rental $2). Call for prices. You must be 15 years old and weigh at least 100 pounds. Maximum weight is 280 pounds. 888-270-0555 /245-2506; www.kauaibackcountry.com.
Princeville Ranch Zipline
Princeville Ranch offers a slightly longer tour (4.5 hours) than Kauai Backcountry. It includes 8 ziplines and a suspension bridge. Adventurers zip across 7 ziplines and cross a wooden plank suspension bridge before stopping for lunch (make your own pita sandwiches, fruit and Kauai cookies) and a swim at a small waterfall. Drinks are not provided at the picnic, but each adventurer is given a complementary souvenir water bottle at the beginning of the trip. Backpacks are available for loan, and you are welcome to bring additional beverages--no glass bottles! After drying off and resting, there is one zipline to go. Guides pay close attention to detail, making sure that every adventurer is comfortable and safe. They go out of their way to describe the local flowers and the land that the ziplines traverse.
Long pants and closed toed shoes are required (rental $2). Call for prices. You must be 12 years old.
http://www.kauai-hiking.com/zipline.html