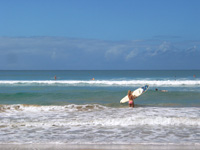 Want to learn to surf? On the south shore, several surf schools operate next to the Sheraton Resort in Poipu, where surf conditions are usually relatively safe – waves less than four feet and winds moderate. With Aloha Surf Lessons, run by Kauai-born surfing pro Chava Greenle and his father Danny, his first teacher, you can have a first-rate lesson combining one hour of personalized instruction followed by one hour of surfing on your own. One instructor works with up to six students. Skilled and supportive, Chava and Danny make sure everyone gets "up," and they really love making that happen! ($50/pp; also private lessons (639-8614 ). Also in Poipu, 7- time world surfing champion Margo Oberg has a surf school for all skill levels (742-8019). $50 for 1.5 hours. 7 students/instructor (742-8019).

Surfing pro Charlie Smith offers individualized lessons island-wide. He will drive you to wherever he thinks he'll find the island's best surf, and his unique personalized 2-hour lessons ($50/pp) can extend to include family picnics and snorkeling. For experienced surfers, it's a great way to learn the island; he knows the best breaks, has high performance boards. (634-6979; www.blueseassurfingschool.com). On the east side, Play Dirty Kauai offers rentals and lessons; the instructor is also lifeguard certified. They can even film the family lesson and burn a DVD. Their equipment is all new, and the people very friendly. Also on the eastside, call one of Kauai's most experienced teachers, Ambrose (822-7112), who also does repairs. Kayak Kauai (822-9179) and Learn to Surf (826-7612) are other options.
For more info about surfing lessons and tours, send Mirah an email.