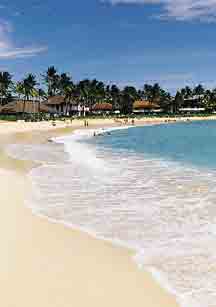 Children can explore the long rocky point at the far end of the beach and find tiny fish in the tidal pools. Bring nets and pails for the hunt! Youıll find a lifeguard, as well as restrooms, outdoor showers, barbecues, picnic tables, and shaded pavilions. Just around the rocky point, in front of the old Waiohai Hotel (destined to become a time-share resort operated by the Marriott) you can enjoy some of the best snorkeling on the island. Hundreds of fish in rainbow colors feed on the coral, so tame they almost swim into your hands. Carry snorkeling fish food in a plastic bag, or even a green leaf, and theyıll swim right to you! Stay inside the reef to avoid being caught in a strong current.

You could not imagine a more perfect beach for children this lovely curve of soft golden sand sloping down to a gentle, friendly sea. The fine golden sand actually curves into several crescent beaches fronting the Sheraton Poipu Beach Hotel and the Kiahuna condominium resort. Waves are strong enough by these resorts to allow for a surfing school to give lessons. In front of the Poipu partk, the water is much more quiet and gentle because of a protective reef across the entrance to a small cove. For babies and toddlers, a ring of black lava rocks creates a sheltered pool where the water is shallow and still. For older children, waves beyond the pool roll to shore in graceful swells perfect for rafts or body boards. Around the corner, at Brennecke's Beach, older kids can try their luck with the big waves - it's a popular spot for local kids. There's something for everyone in the family to enjoy at Poipu Beach Park!




You may see a monk seal taking sun on the sand. It is resting, gathering strength to face another day in paradise!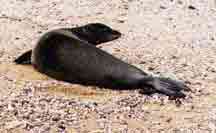 For more beach reviews, consult your Kauai Underground Guide.
For information about beachfront condo accommodations, your best bet is the Kiahuna. For the beachfront units, contact Kiahuna Beachside Condominiums