Almost enclosed by craggy green hillsides, this natural harbor has a wide sugar sand beach with some of the best swimming on the island. The waves roll to shore in long, even swells and break in shining white crests which are usually great for swimming.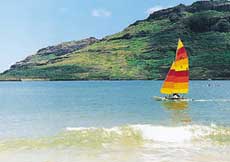 Fronting this beach is the spectacular Marriott Resort at Kauai Lagoons, a headline-maker from the time it opened in the late 80's as a Westin Hotel because of its lavish design and elaborate collections of far eastern art and tropical birds and animals. Here you'll find Kauai's largest swimming pool, its tallest high-rise, its only two-story escalator.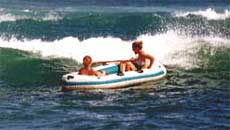 Kalapaki Beach is a favorite family spot. The firm sand is perfect for games and hard running, and the waves can at times break perfectly for boogie boards. Build sandcastles, play beach volleyball, rent a kayak or catamaran, or try your hand at windsurfing.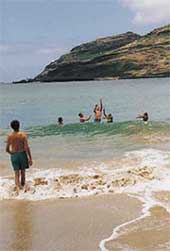 Heed any high surf warnings, however, for at certain times, particularly in winter months, the waves can break straight down with enormous force, and every so often a really big wave seems to come up out of nowhere to smash unwary swimmers. At any time, Kalapaki Beach is wonderful family fun!

For more beach reviews, consult your Kauai Underground Guide.