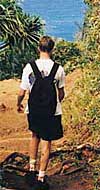 Hiking can be a spectacular way to see Kauai, for more than half of the island's 551,000 square miles is forestland, and many of its most beautiful regions are inaccessible by car.
However, hiking Kauai is not without risks. Many trails can become dangerous from washouts and mudslides, and in the Na Pali coastal region, some trails are etched into the sides of sheer cliffs. Before you go: Send a 10"x13" stamped, addressed envelope ($3.20 stamps) to Division of Forestry, Kauai District (3060 Eiwa St., Room 306, Lihue HI 96766-1875) for a free information packet with maps and descriptions of trails in the forest preserves. For a free packet on the Na Pali region, send another stamped, self-addressed large envelope to Division of State Parks at the same address (or call 808-274-3444).

Advice and Help: The Sierra Club sponsors 3 or 4 day hikes on Kauai each month, also offers shuttle service from the airport to Na Pali trailhead in exchange for a donation. Send SASE to PO Box 3412, Lihue HI 96766. The most popular destinations: Na Pali's Kalalau Trail to Hanakapieai; Sleeping Giant mountain trails on the eastern shore; from Shipwreck Beach to Mahaeulepu on the south shore; and on the west, the first few miles beyond Polihale along the coast. You can also call the Kauai Visitor's Bureau in Lihue (245-3971) for advice and help in arranging hiking trips and guides.

Tours, Maps & Trail Guides Hike Kauai (808)245-4281 designs guided hikes on all of Kauai's most spectacular trails. Whether you want a 2-hour hike through the Redwoods of Sugi Grove or a 7-day trek along the Napali Coast, Hike Kauai show you how to get there and organize a hike tailored to your special goals. This informative site offers maps, trail information, and self-guided tour plans.

Books: Bob Smith'sHiking Kauaidescribes a variety of hikes at all levels of difficulty. Kathy Morey's Kauai Trails: Walks Strolls and Treks on the Garden Island is also a good resource, particularly for the Sleeping Giant Mountain area in Kapaa. When you arrive on Kauai, call the Division of Forestry in Lihue (808-274-3433) for a report on current trail conditions. If you visit the office, you can pick up an excellent free topo map.

In Wailua, we like to hike Mount Nounou Trail, on Sleeping Giant Mountain. This semi-strenuous 1.75-mile hike takes you to the Alii Vista Hale picnic shelter on the chest of the Sleeping Giant. From this vantage point, you can see the inland mountains to Mount Waialeale and the Wailua River winding to the sea. The trail head is on Halelilo Road in Wailua. From Kuhio Highway (Route 56), take Halelilo Road for 2 miles and park on the right near telephone pole #38. After a moderate ascent with some climbing over boulders, through dense guava and eucalyptus, you'll walk through switchbacks, until you come to a junction marked by multiple-rooted hala trees. The trail to the left leads to another fork, and either of these paths will lead to the shelter. Explore for the best view, though avoid trails leading south towards the giant's head.
Trails: The most famous trail, the Kalalau trail, is a spectacular but strenuous 11 mile hike through the Na Pali cliff region, though even recreational hikers can enjoy the first few miles. This subsection, the Hanakapiai trail, has breathtaking views of the coast along switchbacks which take you into forest and back out to the ocean. About a quarter-mile of uphill walking brings you to a magnificent view of Kee Beach and the Haena reefs.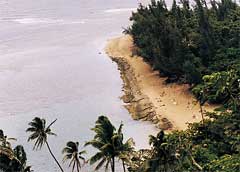 Two more miles of rigorous up and down hiking will bring you to Hanakapiai Beach, nestled like a brilliant jewel in a picturesque, terraced valley (Hiking beyond this point requires a day-use permit from the Division of State Parks).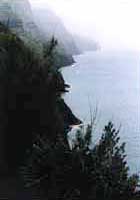 Unfortunately, this beach has currents far too dangerous for swimming, and the rip currents can be so powerful that more than one unwary hiker standing in the surf at knee level has been caught up in a sudden, large wave, pulled out to sea and drowned. The Kalalau trail begins where the paved road ends on the north shore, at Kee Beach. Remember, it's also the last source of safe drinking water.

Important safety information: When it rains, this narrow trail gets muddy and dangerously slippery. In many places, the trail is actually a stream bed, and fills with water after heavy rains. Essential items: shoes with good traction for slippery rocks and mud (instead of jogging shoes or flip flops), sunscreen, strong insect repellent, a hat, perhaps a nylon poncho, and even a walking stick. (Consider a telescoping stick that can double as a monopod for your camera; a great one by Cascade can be found at www.rei.com). Plan on carrying your own drinking water because the bacterium leptospirosis is found in almost all of Kauaiís rivers and streams. For an update on trails and conditions in Na Pali, call Pedal & Paddle (826-9069) in Hanalei, the Division of State Parks (241-3446), or Kayak Kauai Outfitters (826-9844), which offers guided hikes of the Kalalau Trail, and ocean kayak excursions on Na Pali.

The Kokee Forest region is beautiful in a different way. Within this 4,345 acre wilderness preserve are 45 miles of trails, from pleasant walks to rugged hikes, as well as fresh water fishing streams, and the 20 square mile highland bog known as Alakai Swamp. From the Kokee Lodge, day hikers can choose from three trails which explore the plateau and Waimea Canyon rim, ranging from the half-mile Black Pipe Trail to the 1.5 mile Canyon Trail along the north rim of Waimea Canyon, past upper Waipoo Falls to the Kumuwela Overlook. From this perch you can see the canyon's 3,600-foot depth and 10 mile stretch to the sea. For longer hikes, arrange for guides, and hunting and fishing licenses, at the Kokee Lodge (335-6061). Visit www.geocities.com/RainForest for a virtual tour.