Farmers' Markets happen almost each day of the week—some are "official," some informal— and all are a great place to catch the flavor of the island, talk to local people, and enjoy a kaleidoscope of tastes and colors. Come early for the best selection!

From truck beds, tiny stands, or the trunks of cars, local farmers will sell their fruits, vegetables, and flowers at prices more reasonable than the supermarkets. Manoa lettuce, as little as $2 for a half-dozen small heads, will be fresh from the garden and taste of Kauai's sunny skies and salt air. You'll never want iceberg again!

You may find avocados at 2 for $1; fresh basil, oregano, marjoram, or chives; a shiny dark purple eggplant with just the right sound when you thump it, and bananas of all kinds—Williams, Bluefield, and the special apple-bananas. Don't be put off by the short, fat, drab-skinned exterior, for inside the fruit looks like golden sand at sunset and tastes like bananas laced with apples.

The starting time is important to know. At the Koloa market, you'll see a rope tied across the parking lot which serves as a starting line, complete with a shrill whistle, to ensure an equal chance for buyers and sellers. It drops at noon on the nose, so don't be late!

At Kapa'a market, official opening time doesn't deter buyers. They simply 'reserve' their selections, permitted as long as no money changes hands. Sellers write buyers' names on bags of fruit, or on pineapple leaves, or even give out numbered tokens, like a hat check. Shopping can be accomplished in a matter of moments, but then you have to remember where everything is stashed!

You may even find leis of pakalana or plumeria for $3 a strand. Take home tropical flowers—bird of paradise, parrot colored heliconia blossoms, stalks of fragrant white or yellow ginger. Be ready to bargain if you are buying in quantity, and take their advice about venturing into new tastes. Most sellers price in $1 or $2 packages, so bring singles!

The largest markets are in Kapa'a, Koloa and Lihue, and they are a little tricky to find. On Fridays, the Lihue market is in the parking lot behind the Vidhina football stadium just south of the airport. Enter off Kapule Highway (Rt. 51) at the small street leading into the stadium at its northern corner, or turn off Rice St. at Holoko Road. The Wednesday Kapa'a market is opposite the armory; take Kukui Road off Rt. 56 and turn right at the end; then make the next right onto Kahau Road and park on your left. Or take the new bypass road from Wailua to Kapa'a; it comes out just at the end of Kahau Road. For the Koloa market, turn left off Koloa Road just before the baseball field.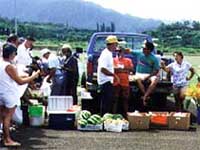 Just missed the market? You'll find roadside produce stands all over the island. Look for low acid, 'Sugar Loaf' pineapples from Kahili Farms, strawberry papayas, bananas of all kinds. Near Lihue, stop at People's Market on Rt. 56 in Puhi. In Waimea, visit Pualani's Fruit Stand for frosties made from whipped frozen Kauai fruit.

Farmers' Markets Schedule
| | | |
| --- | --- | --- |
| Monday | noon | Koloa, Ball Park on Rt. 520 next to the fire house |
| Tuesday | 2 pm | Hanalei, west of town on Rt. 560. (until 4 pm) |
| Tuesday | 3:30 | Kalaheo Neighborhood Center, Papalina at Rt. 50 |
| Wednesday | 3 pm | Kapa'a behind the armory. (arrive 2:45) |
| Thursday | 3:30 | Hanapepe, Town Park |
| Thursday | 4:30 | Kilauea, Kilauea Neighborhood Center |
| Friday | 3 pm | Lihue, Vidhina football stadium parking lot, near airport. |
| Saturday | 9 am | Kekaha Neighborhood Center, Elepaio off Rt. 50. |
| Saturday | 9 am | Kilauea, Christ Memorial Church. |

For more invaluable tips and things to discover, consult your Kauai Underground Guide 16th edition now!