The spectacular cliffs of the Na Pali coast are off limits to most visitors – unless they dare to hike the wilderness on narrow and slippery trails. Coastal boat tours provide a way to see these amazing cliffs up close, and enjoy a sometimes rough and ready adventure at the same time. Explore sea caves, watch sparkling waterfalls, and marvel at how tenaciously plants can cling to inhospitable rock. You'll see an enormous change in landscape, from the dark, rich green of Ke'e Beach, where rainfall measures nearly 125 inches a year, to the reds and browns of Polihale on the west side, where it's only 20 inches. During winter (November till March), if seas off Na Pali are too rough and currents too strong, tours may cruise Kauai's south shore to Kipu Kai, where humpback whales frequent Hawaii's warm waters from December to April, as well as pods of spinner dolphins.

In choosing a tour company, consider the size of the boat (only smaller boats can enter Na Pali's sea caves and snorkel at protected Nu'alolo Kai, while larger boats can offer a smoother ride). Also consider onboard amenities (restrooms, shade, and food/beverage selection); length of the tour (how much you see and whether there is a snorkel break); activities offered (snorkeling, scuba, lunch, heavy pu pus, cocktails), and the season (rougher winter seas mean you can't get as close to the cliffs). Snorkeling on any of these trips depends on weather and surf, but most companies try to get you get in the water even if there is nothing much to see.

Small power catamarans: In calm seas, these boats (fewer than 18 passengers) combine a comfortable ride with the agility to go into the sea caves along Na Pali (some companies close down in winter). Twice daily from Port Allen, Makana Tours takes 12 passengers on a 32-ft power catamaran with bathroom. Captain Mike De Silva, a Kauai native, makes sure everyone gets a bird's eye view of the amazing scenery. You may frolic with a pod of dolphins, even play in a waterfall, and see amazing fish while snorkeling at protected Nu'alolo Kai. Flotation devices for snorkelers, excellent equipment, a buffet lunch with fresh-baked bread for sandwiches, even a fresh water rinse after snorkeling make a difference. Mike's knowledgeable and accommodating crew describes history, natural history, and local lore ($129/adult; 335-6137; 888-335-6137; makanacharters.com).

From Waimea, Liko Kauai Cruises owned by Liko and his Hawaiian family offers an excellent 4 hour morning or afternoon snorkeling and sightseeing tour which goes into some of the caves, as well as fishing cruises. His 49-ft power catamaran, 'Na Pali Kai III' has all forward seating, shade, plus bathroom. Liko's policy is to go as far up Na Pali as weather permits, so you can see everything, occasionally pods of whales in winter ($120/adult; 338-0333; 888-SEA-LIKO; liko-kauai.com).
Catamaran Kahanu tours Na Pali on a 40-ft power catamaran, 18 feet wide with a 'flying bridge' for hanging over the waves to watch for spinning porpoises and humpback whales ($135/adult; 645-6176; 888-213-7711; catamarankahanu.com). Keith Silva takes Kaulana Pali Kai, a 27-ft power boat for 6 passengers, ideal for families or small groups (337-9309).

Zodiacs: If you crave a bigger thrill, consider zodiacs, whose 'rough and ready' ride often takes you up and over waves and head on into the surf. These rigid hull ocean rafts are not for the weak of heart – or back. The ride can be very bumpy, so ask right away for gloves to hold onto the rope, especially if you want to sit towards the front.
A waterproof camera is a good idea for when the boat goes under waterfalls and through the ocean spray.
On the ride home, the boat may feel as if it is driving against the waves at top speed, and so less adventurous passengers might prefer the back, in what is called the 'cadillac seat.' Z Tours offers scheduled tours to south shore, including Kipu Kai (742-7422; 888 9ZTOURZ; ztourz.com).

Kauai Sea Tours takes 15 passengers on a full-day tour that includes a guided hike ($139/adult), or a half-day tour that includes snorkeling but not landing ($125/adult). Seasonal sightseeing and whale watching raft tours are also available ($69-99) (826-PALI; 800-733-7997; kauaiseatours.com).
Captain Zodiac, now operated by Captain Andy's, operates a 24-ft motorized rigid hull craft. The 6 hr Na Pali snorkeling adventure includes (weather permitting) landing at Nu'alolo Kai for lunch ($159/adult) (335-6833; 800-535-0830; capt-andys.com).
Na Pali Explorer operates 2 boats along Na Pali, a 35 passenger rigid hull zodiac complete with restroom and shelter for higher speeds in rough ocean conditions, and a 26-ft, 16-passenger 'Hurricane' Zodiac. 3-hour south shore whale watching tours go out in winter months ($79-$125/adult) (338-9999; 887-335-9909; napali-explorer.com).
Na Pali Riders, leaving from Kekaha, has the advantage of touring the entire Na Pali coast all the way to Ke'e Beach or, if you're lucky, Tunnels Beach. It's a long tour, but you'll see everything (742-6331; napaliriders.com).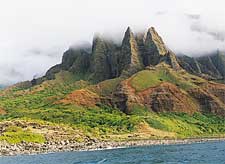 Larger catamarans: For those who tend to get seasick, these offer a smoother ride, particularly in winter months, when seas are rougher. Blue Dolphin Charters tours Na Pali on the 'Blue Dolphin,' a 63-ft sailing catamaran, and the 'Blue Dolphin II,' a 65-ft catamaran, both of which have top decks with rows of seating ($139/5 hrs). It begins, as most tours do, with a continental breakfast and safety briefing, and it is the only Na Pali tour company that offers a diving option – both for certified divers and first timers ($35). After the snorkel/scuba break, a make-your-own sandwich lunch is served, and the bar opens with beer, wine, and mai tais. On our last tour, owner-operator Captain Terry took us close enough to the cliffs for a waterfall shower (not possible in rough winter seas). Sunset cruises are also offered ($109/3 hrs) (335-5553; 877-511-1311; kauaiboats.com).

Captain Andy's 55-ft sailing catamarans, 'Spirit of Kauai' and 'Akialoa' also sail from Port Allen to Na Pali ($139/adult) (335-6833; 800-535-0830; capt-andys.com). Both boats have two 'trampolines' which provide front row seats – if you don't mind getting occasionally soaked with spray. If the wind is right, the captain may hoist the sails and turn off the engine for a quiet, smooth ride. A large, partially covered area with tables and chairs offers shelter and beverages (and after snorkeling, beer and wine). Morning Na Pali cruises begin with muffins and fruit, and later a make-your-own sandwich lunch.

On its 60-ft sailing catamaran, 'Lucky Lady,' Kauai Sea Tours has an excellent Na Pali tour ($135/adult) with snorkeling, as well as a sunset dinner cruise ($109/adult), and, on longer summer days, a snorkel sunset dinner cruise ($135/adult). The crew is very friendly, knowledgeable, and courteous. Breakfast and lunch are served, with mai tais, wine, and beer after you get out of the water (826-PALI; 800-733-7997; kauaiseatours.com).
Also from Port Allen, Holo Holo Tours goes along Na Pali on 'Leila,' a comfortable 50-ft sailing catamaran with little side-to-side rolling motion. Breakfast, lunch, as well as beer and wine are included (335-0815; 800-848-6130; holoholocharters.com).
Eastside: True Blue Sailing sails a 42-ft trimaran out of Nawiliwili Harbor near Lihue year round, with picnic & snorkel tours to Kipu Kai, snorkel tours off Nawiliwili, and charters. They specialize in small groups (20 or less) (246-6333; kauaifun.com).

North Shore: The longest operating tour boat captain on Kauai, Captain Sundown sails each tour personally, taking 15 passengers in his 40-ft sailing catamaran, 'Ku'uipo,' from Hanalei out along the Na Pali coast ($162/6 hrs) (826-5585; captainsundown.com). His family-owned company has been in business since 1971– that's the record on the island – and the bearded, friendly captain knows just about all there is to know about the island, its stories, and its waters. Choose either a Na Pali snorkel sail with a stop at Nu'alolo Kai, a Na Pali sunset sail, or a whale watching trip. Na Pali tours include a lunch of deli-made sandwiches (vegetarians can bring their own for a discount).

If you have the time, consider a tour to Ni'ihau, the 'forbidden' island largely off limits to tourists, except on boats which can come close enough to snorkel and dive but not to land. For skilled divers, Seasport Divers offers an all-day 3-tank dive trip (Tuesdays and Fridays) with a knowledgeable and friendly crew. We saw monk seals, eagle rays, colorful and rare fish, and a gorgeous coral garden. You can dive a 200 foot ledge, swim though beautiful archways and drift hundreds of feet with a current. The boat is two stories, the largest dive boat on Kauai, and beautifully outfitted with excellent equipment. we caught three ono off the back while crossing the channel. We went to 100 feet to a coral garden and saw rare fish on a picture perfect summer day, a memorable experience.
Also on Tuesdays and Fridays, Blue Dolphin Charters takes a comfortable 65-ft sailing catamaran ($185) for snorkeling or diving ($35 extra), and Holo Holo Charters offers daily snorkeling-only tours ($156). See Scuba, 129.

When booking a tour, here are the key questiobns to ask ' What are the cancellation policies for weather and surf conditions? You can check the weather report yourself (245-6001). Companies may claim they never go out in rough seas, but a lot depends on the definition. Rocking, rolling swells are fun for some, not so much fun for others, especially if there's no shelter from wind and spray, so think twice if your tour is ready to head out in marginal weather.
Compare the number of passengers with the overall boat capacity, keeping in mind that the more crowded the boat, the less comfortable you may be. Inquire about your captain's experience on Kauai; every captain must be coast guard licensed, but some have more experience than others.
Keep in mind that your young tour guides appreciate a modest tip.
Bring sunscreen, especially if your craft doesn't offer shade, perhaps a hat and sunglasses for glare, a towel, a long sleeved shirt for early morning check ins, and if possible, your own snorkel mask (and anti-fog) that fits properly. Protect your camera and film in a heavy duty zip lock plastic bag, and bring a dry shirt for the long ride home when you may be soaked with spray and dreaming of a hot shower.

For more information see the 18th edition of the Kauai Underground Guide.
Contact Mirah Horowitz for the most up to the minute info