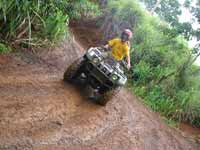 One of the newest ways to tour Kauai's wilderness areas is by ATV. Kipu Adventures leads tours through Kipu Ranch, a 3,000 acre cattle ranch between Lihue and Poipu. On wide wheel-base Honda 350s, you maneuver up and down grades, bounce into streams, cross valleys and forest areas, go through pastures with cattle and climb the rocky road to the Ha'upu mountain pass – a spectacular lookout to gorgeous Kipu Kai beach. You may see Nene geese, wild pigs, pheasant, turkeys, amazing trees, as well as locations of Raiders of the Lost Arc, Jurassic Park, Mighty Joe Young, and others. Kids must be 16 to drive; 2 seater ATVs – aka 'the bomber' ­– are also available. Long pants are required, and anything you wear will soon become an original red dirt shirt! ($105/3 hrs; $140/4 hrs; 246-9288; kiputours.com).

Kauai ATV's motto is 'do something dirty' – and for good reason. You'll splash through plenty of mud, climb over rocks, cruise through cane fields, and wade into a waterfall (on foot) for a photo op on tours over cane roads and through cane fields on Kauai's south side. The company provides head lights to go through an old cane tunnel (great fun!). Choose a 4-hour 'waterfall tour' with picnic ($155); a 3 hr 'Koloa tour' ($125); or the 'mudbug tour' on a 2-seater mud cruising machine which includes kayaking at the Waita Reservoir, the largest inland body of water in the state ($175). Rent mud gear (recommended), but be prepared to get filthy. Two-seaters are available for all tours, as well as a specially designed 4-seater for families. Tours include an image CD. Visit the outdoor gear store, unique on Kauai. 742-2734; 877-707-7088; kauaiatv.com.
On the westside, Gay & Robinson offers a 4.5 hr tour of the Robinson family's private Makaweli Ranch and uplands, with views from Polihale to Poipu: $145 for the 'mountain pool adventure' which includes a 'paniolo barbecue,' or $100 for a tour with snack (M-Sat. 335-2824).
For more information on ATVs and other adventures, see the 18th editon of the Kauai Underground Guide.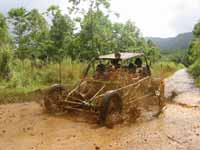 Contact Mirah Horowitz for more info on the best ATV tours.